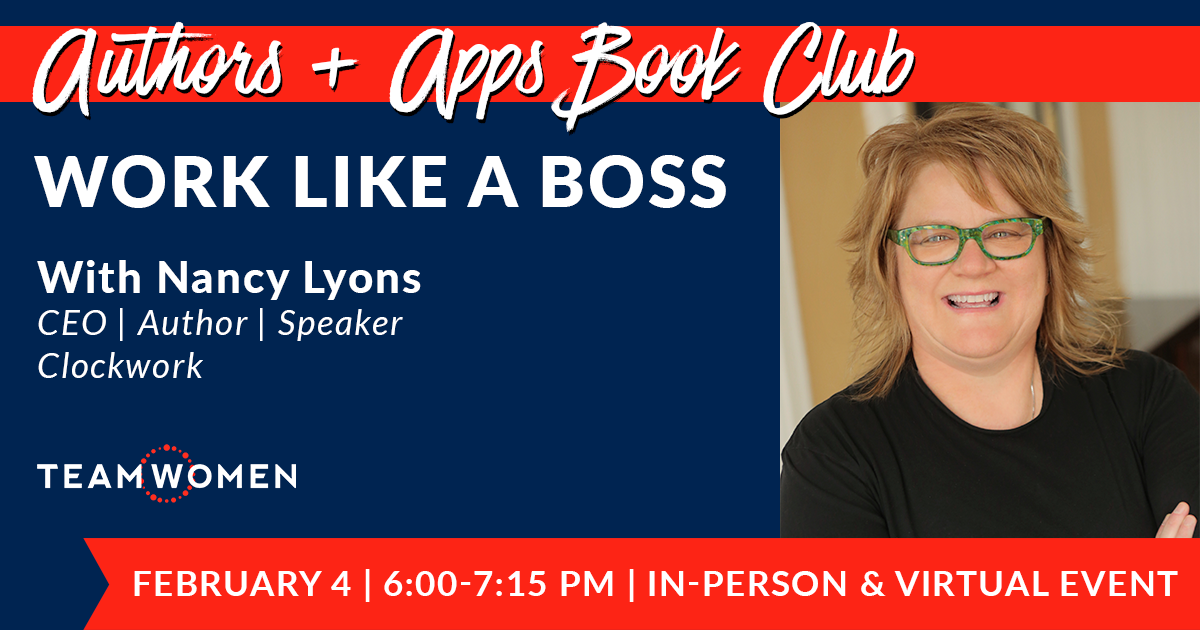 Authors + Apps | Nancy Lyons | Work Like a Boss
February 4, 2021 @ 6:00 pm - 7:15 pm CST - $15 – $30
We realize that not everyone is experiencing the effects of COVID-19 the same. In an effort to meet the needs of all our members, we are offering a hybrid in-person/virtual event to give those not in a high-risk situation, or who are comfortable meeting in person, the chance to connect and network. The in-person event will be limited to 10 people (or how many we can have according to current COVID-19 restrictions) and requirements will be followed. Masks are required. If you're seated at a table, you can remove it. However, any movement throughout the space requires a mask. We are also offering a livestream of the event for those who would prefer to attend virtually.
Note: The in-person option will be at our new office location in the West End.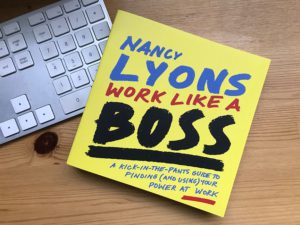 Join TeamWomen for our Authors + Apps series! Our book club is designed to bring TeamWomen together over the written word and great discussion. Visit Nancy's website to order your copy of Work Like a Boss today! Note: It's not necessary to read the book before attending the event.
Real power doesn't come with a title, a promotion, or managing a team. It comes from a sense of ownership and accountability that you can bring to the office every day.
In Work Like a Boss, Nancy shares lessons learned through personal experience (and experiments) and what she has observed in her twenty-five years of business leadership. With her decades of skill in developing award-winning, people-centered work cultures, let Nancy give you tough-love advice on things you've long forgotten are essential at work:
Identifying and using better mindsets and practices
Bringing your best self even when it's difficult
Overcoming your bad communication habits
Owning your sh*t
And more
You can help shape a healthier work culture through simple steps. Stop being a victim of work and start being the boss of your attitude, approach, and actions.
Nancy Lyons
CEO, author, and speaker, Nancy Lyons has been at the forefront of the work culture conversation for more than twenty years. "People-first as a business strategy" is the guiding principle that fuels the unique, award-winning culture at Clockwork.
Nancy has led employees and clients through thousands of business, team, and work culture challenges. As a digital veteran, she has witnessed the dramatic change technology brought to both businesses and people, and yet also sees people and companies struggling to figure out how to adapt.
She speaks and writes about the crucial role work culture plays in delivering meaningful and effective results. Work culture — our feelings, behaviors, and interactions — is core to how we work. It's a primary determinant of personal and professional success. Nancy has watched people go from being a victim of work to being the agent of work with simple shifts.
Her first book was Interactive Project Management: Pixels, People, and Process, a human-centered approach to producing digital products. Her current book, Work Like a Boss: A Kick-in-the-Pants Guide to Finding (and Using) Your Power at Work, is the little book everyone needs to remember the actions, attitudes, and attributes that will make work better for individuals and everyone around them.
Nancy is the recipient of numerous awards and recognitions, including:
100 People to Know from Twin Cities Business

101 most influential people in the world of work, management, and career from Ladder magazine

Most Admired CEO from Minneapolis/St. Paul Business Journal

Business Owner of the Year from National Association for Women Business Owners

A panelist at the inaugural White House Summit for Working Families in Washington, DC

Featured on NBC Nightly News with Lester Holt in the segment titled "Best Place to Work in America"
Refund Policy: Attendees can receive refunds up to 7 days before the event start date. Please contact Susan at susan@teamwomenmn.org for more information.
Related Events