Planning for Loss & Abundance | Speaker Panel | Moderated by Katie Brady | Life Time Fitness
January 10, 2019 @ 7:30 am - 9:00 am CST - $25 – $45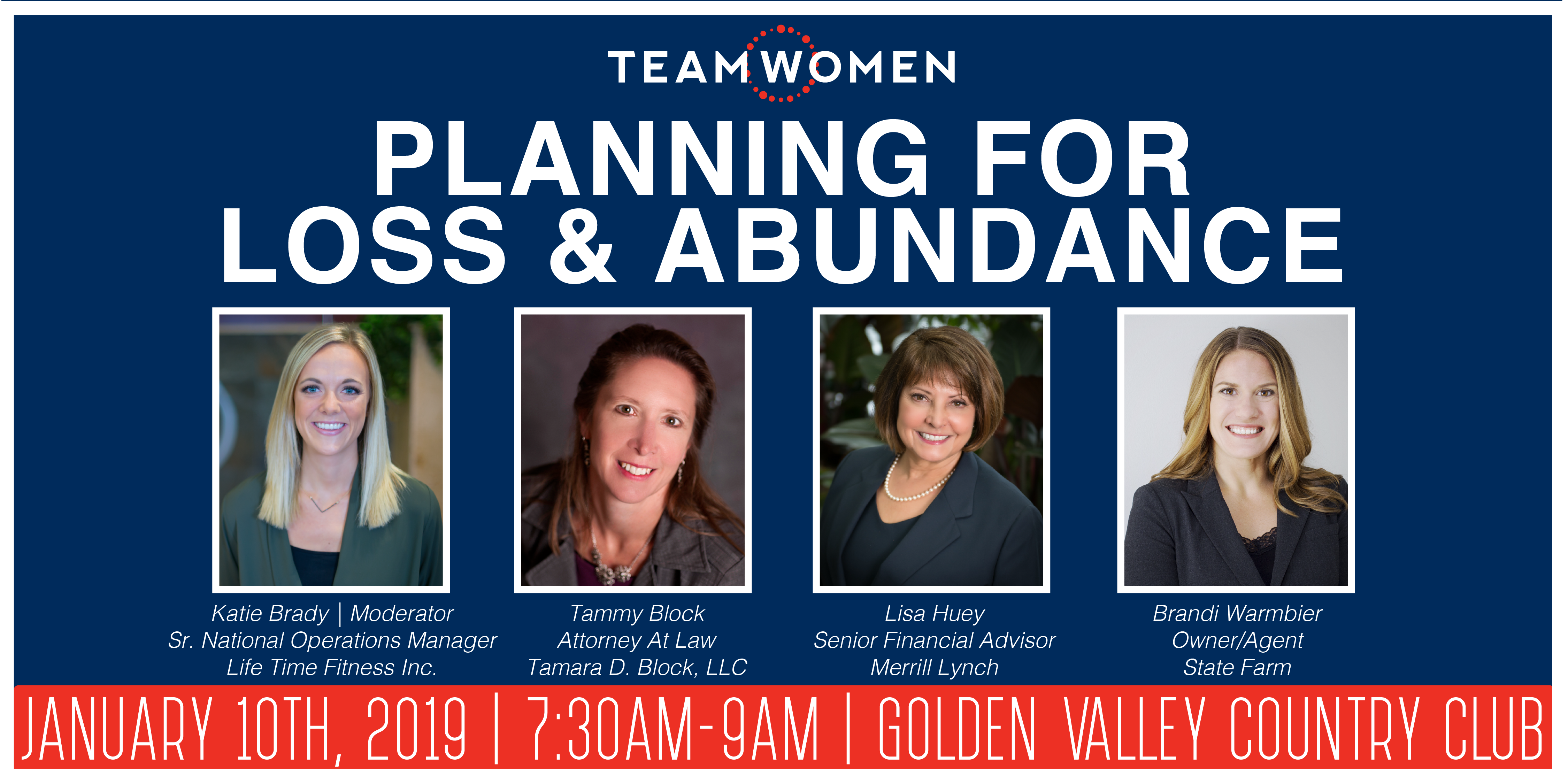 [av_button label='Purchase Tickets' link='https://www.eventbrite.com/e/planning-for-loss-and-abundance-tickets-50868840070′ link_target='_blank' size='medium' position='left' icon_select='yes' icon='ue8cb' font='entypo-fontello' color='theme-color' custom_bg='#444444′ custom_font='#ffffff']
Do you know what it takes to be prepared for the birth of a child or the loss of a parent? How much do you understand about retirement or college planning? Fewer than 20% of women feel adequately prepared to make important life decisions. Our panel of experts will guide you through questions to consider when planning out your life so you feel more confident handling whatever is thrown your way. Join us for an educational morning, and walk away with a better understanding of how to prepare for loss and abundance.
Speakers include:
Tammy Block, Attorney At Law, Tamara D. Block, LLC
Tammy has been practicing law since 1998 and has worked with companies such as Bank of America, University of St. Thomas, United Way, and Habitat for Humanity. Her most recent position is as Vice President of Development for Make-A-Wish Minnesota.
Tammy currently has a very active law office doing estate work/planning, real estate, and business law including nonprofit consulting. She loves to be able to help people with their legal issues and make it easier for families and individuals to accomplish their personal goals. Her mission is to provide families and individuals with a sense of security and to make the process easy to understand.
She is a mother of two amazing kids and lives in Rosemount, MN.
Lisa Huey, Senior Financial Advisor, Merrill Lynch
Lisa focuses on working with business owners, not-for-profit organizations and individuals and their families to identify their financial goals, create a financial plan and match an investment strategy to achieve their goals.
Lisa is a Chartered Retirement Planning Counselor® and has spent the last 7 years at Merrill Lynch serving high-net-worth investors and their families. Prior to Merrill Lynch, Lisa worked for 18 years at Piper Jaffrey as an investment banker in Public Finance, where she was the Managing Director of the Health Care / 501(c)3 practice.
Lisa graduated from the University of Iowa with a BBA and an MA in Business Administration. Lisa also completed coursework toward a PhD in business management and information systems.
In her free time, Lisa enjoys golf, fly fishing and donating her time to charitable organizations such as the YWCA of Minneapolis, Stevens Square Foundation, TeamWomen and Friends of Ngong Road.
Brandi Warmbier is a State Farm Agent in Eden Prairie, MN. She moved to Minneapolis in 2012 to open her agency. Prior to that, she was working at State Farm's corporate headquarters in Bloomington, IL. Brandi held roles in claims, consumer research and managed an internship program at the University of Illinois.
Brandi is passionate about helping her customers plan for the future and using her agency to give back to the community. She has four amazing team members that work with her to provide the best possible insurance experience to their customers.
In her free time, Brandi enjoys cooking, entertaining family and friends, and depending on the season, spending time at the cabin or going to Vikings games.
Moderator — Katie Brady, Senior National Operations Manager, Life Time Fitness Inc.
Katie Brady is the Senior National Operations Manager for Life Time Work, a new venture with Life Time Fitness Inc. She is responsible for directing and executing the strategy of the coworking concept. Life Time Work is a premium, shared workspace designed for the pursuit of a healthy and fulfilling work life. Prior to this new role, Katie worked in Member Retention focusing on new club openings with Life Time, and successfully opened and on-boarded new managers in over 20 new Life Time locations.
Katie is passionate about helping others live a healthy way of life.
In her free time, Katie loves to be in the gym taking a class, weightlifting, yoga or running. She enjoys trying new recipes and spending time with her husband and all their nieces and nephew.
Related Events