How to Prep for Virtual Interviews | Alissa & Lucas Henriksen | Virtual TeamWomen Talks
April 17, 2020 @ 10:00 am - 10:45 am CDT - Free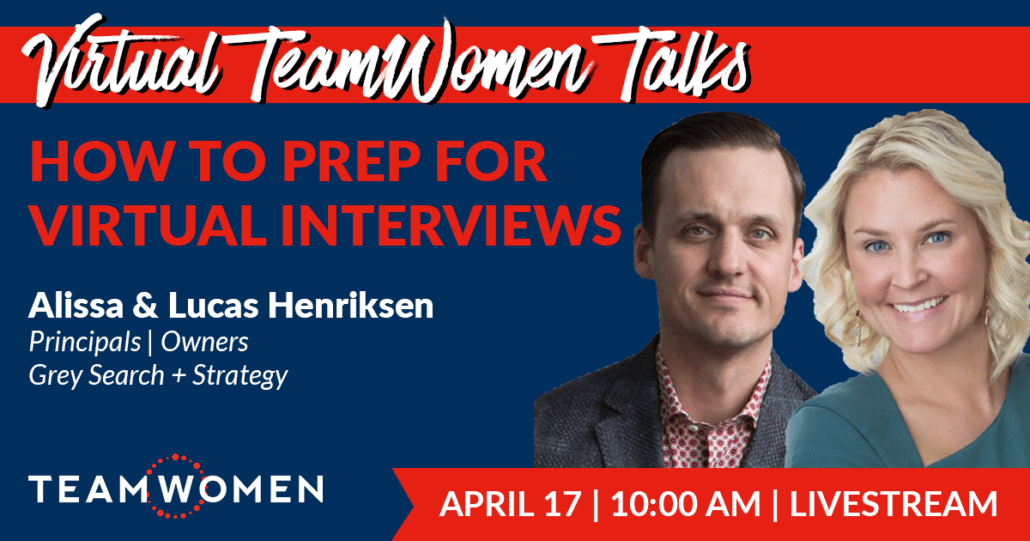 [av_button label='Register' link='https://zoom.us/webinar/register/WN_G7RoiJa7REOyDIadhNecUA' link_target='_blank' size='medium' position='left' icon_select='yes' icon='ue8cb' font='entypo-fontello' color='theme-color' custom_bg='#444444′ custom_font='#ffffff'] [av_button label='Make a Donation' link='https://teamwomenmn.z2systems.com/np/clients/teamwomenmn/donation.jsp' link_target='_blank' size='medium' position='left' icon_select='yes' icon='ue8cb' font='entypo-fontello' color='theme-color' custom_bg='#444444′ custom_font='#ffffff']
Join us for our Virtual TeamWomen Talks, a livestream to stay connected, gain perspective, and lift each other up! This will be a FREE 45-minute virtual talk with Alissa and Lucas Henriksen, principals and co-owners of Grey Search + Strategy, who will speak on how to prep for virtual interviews. Please consider supporting us by making a donation.
In our current "virtual-only" environment, interviewing carries some new challenges. More than ever, you want to make sure you are prepared, confident, and optimized for the unique nuances involved with virtual interviewing.
Here's your chance to get some can't-miss interviewing tips and guidance from the co-owners of thriving Twin Cities recruiting firm, Grey Search + Strategy. 
The interview game has changed for awhile…but the things that make you a great fit for that job haven't! For that next opportunity, Grey will help get you ready to ace it…even if you can't face-to-face it!  We hope you'll join us!
Alissa Henriksen
Alissa grew up in a small farming town in southern Minnesota and comes from hardworking stock. Her dad was a traveling sales rep for the same company for over 32 years, and her mom was a teacher. Alissa played volleyball with a junior Olympic team and received a full ride to play at South Dakota State University, where she graduated with a double major in Business Economics and Spanish.
Alissa has devoted her entire career to recruiting. After working for a large recruiting firm out of college, she started her first business in 2008 and has never looked back. She started supporting Fortune 500 and Fortune 100 companies with their recruiting strategies at the age of 24, and has built 15 years of experience working with clients ranging from small start-ups to billion-dollar public corporations. In that time, she has recruited contributor to executive-level roles, rebuilt recruiting and interviewing processes to attract and retain talent, crafted strategies for challenging rural areas, developed proprietary 'play books' that guide managers through successful hiring and much more.
Through every engagement, Alissa applies her "Grey" philosophy that each organization is unique and deserves custom-tailored strategy and high-touch service. That approach has earned her a seat at her clients' leadership table and she is proud to be called their partner.
Alissa is President of the board of the International Dyslexia Association's Upper Midwest branch and sits on the board of the Minnesota State Chamber of Commerce. For 2018, Alissa was named to Minnesota Business Magazine's list of "Women Who Lead." In 2019, she was named to the Minneapolis/St. Paul Business Journal's "40 Under 40" list. Alissa and Grey received TeamWomen's 2019 "WaveMaker Company Champion" award for making internal women's advancement a priority through sponsorship and mentoring programs, goal-setting and hiring initiatives.
Like her husband and partner, Lucas, she adores her family and loves traveling and spending time with them up north.
Lucas Henriksen
Lucas grew up in Gaylord, MN as part of an entrepreneurial family. He started working at his parents' farm and fleet store at age 7, mopping floors, price-tagging items, mowing and loading softener salt—all with the vision of being the store manager.
Lucas graduated from the University of Minnesota–Twin Cities with a B.S. in Applied Economics. His career began in sales, where he was repeatedly recruited by competitors.
Lucas and Alissa's shared entrepreneurial spirit led them to start their own search firm in 2008, which they built on providing a deeper level of strategy and service than any competitors were offering. As principal and co-founder of Grey Search + Strategy, Lucas has successfully filled roles spanning a multitude of industries, capacities and levels, including CEO, COO, vice president, director, manager, national, regional and local sales, professional operations/production, logistics, engineering, quality, human resources and finance.
Lucas enjoys digging into each clients' unique business, their culture and employment gaps, and is driven to connect a client's unique story with a candidate that perfectly aligns with it. Lucas and Grey Search + Strategy received TeamWomen's 2019 "WaveMaker Company Champion" award for making internal women's advancement a priority through sponsorship and mentoring programs, goal-setting and hiring initiatives.
In his spare time, Lucas enjoys traveling with his wife, their two kids and two dogs. As an avid sports fan, he enjoys power sport riding, boating, golf, winter sports and following Minnesota sports.
Related Events