Ratification Race: 100th Anniversary of the 19th Amendment | Virtual Running Club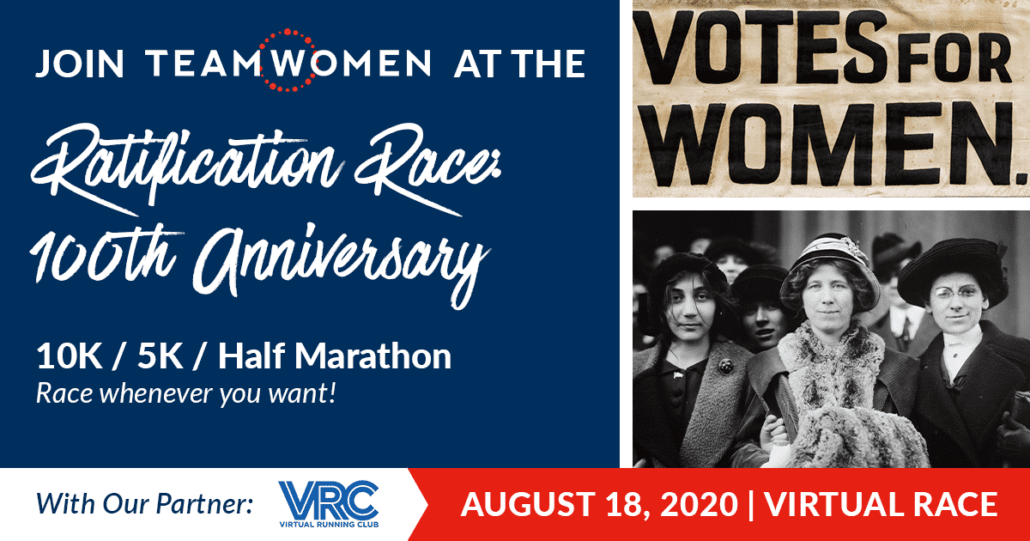 [av_button label='Register Now' link='https://www.virtualrunningclub.com/events/ratification/' link_target='_blank' size='medium' position='left' icon_select='yes' icon='ue8cb' font='entypo-fontello' color='theme-color' custom_bg='#444444′ custom_font='#ffffff']
Use code tw10off for 10% off the ratification race. The discount expires on 7/26/2020.
It's been 100 years since the ratification of the 19th Amendment to the United States Constitution, which stated the right to vote could not be denied due to one's sex. Join us in commemorating this historic step towards equality and honor the suffragists who worked for the advancement of women.
Virtual Running Club is proud to partner with the National Park Foundation, the official nonprofit partner to the National Park Service, to preserve and share stories of trailblazing women who made history and continue to shape our future.
$3 from each registration is donated to the National Park Foundation's Women in Parks initiative in support of projects and programs that highlight the breadth and depth of women's role in shaping America's past, present, and future. Women's history can be found at each of the 400+ sites across the National Park System and in the thousands of communities represented by National Park Service programs like the National Register of Historic Places, Certified Local Governments, and National Heritage Areas. Click here to learn more about the remarkable legacy of American women on our nation's history.
How This Works
A virtual race is just like a traditional race except you have the flexibility to do your race when and where works best for you!
Race Day: 8/18 (Or whenever you want. Try 7/20-8/18.)
Shirt Shipment Deadline: July 26, 2020
Distance Options: 5K, 10K, or Half Marathon
Location: Wherever you want!
Registration Options
Note: Participating in a virtual race is a great way to keep your mind and body healthy. Be sure to follow CDC and state and local guidelines to prevent the spread of infectious diseases while participating.
Swag Options:
MEDAL, SHIRT, AND/OR KEEPSAKE PRINTED BIB swag is available in the a la carte registration system.
Related Events