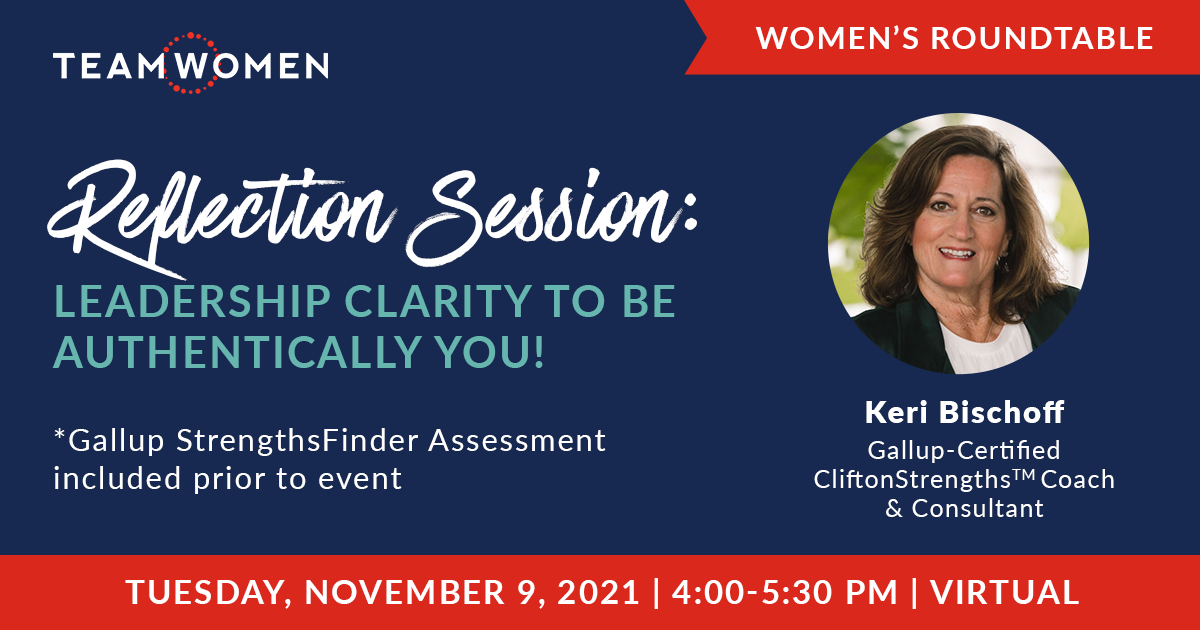 (VIRTUAL) Reflection Session: Leadership Clarity to Be Authentically You!
November 9, 2021 @ 4:00 pm - 5:30 pm CST - $35 – $55
Trying to be who you are not is exhausting. Successful leadership begins with knowing what you do best!
We've all been through some type of transformation in the last two years. Now is the time to take a fresh look at our strengths to learn how we can be our best selves, working independently and with our teams.
This TeamWomen leadership workshop will help you understand how you uniquely influence others. Discover your authentic leadership style through the strengths-based language of innate natural talent. When we try to be someone else, it doesn't work! No two leaders are alike, and no two challenges will be solved in the same manner. We approach each situation in our own way. The CliftonStrengths workshop will help you understand how to lead by being your best self, both professionally and personally.
Through self-reflection, interactive conversations, and insightful exercises, we will validate and empower your inherent traits. The clarity of knowing and understanding your strengths, while acknowledging the shadow sides of each strength, is a powerful roadmap for successful women leaders.
Keri Bischoff
As a Gallup-Certified CliftonStrengthsTM coach and consultant, Keri Bischoff is driven by the desire to help others see their power and potential. Because it's already there. It's always been there. The trick is simply to see it for yourself.
Her approach is defined by curiosity and care. Leading with Learner, she brings curiosity to every consulting opportunity, be it with an individual or an organization. Only by learning about you, your business, and your objectives can she truly be a mirror to the strengths that already lie within. The care that she brings can best be defined this way: her work is most validating when she sees her clients emboldened and empowered to step into the next phase of their life or leadership journey.
Unlocking potential, helping organizations grow stronger teams, providing a common language for connection and collaboration, and inspiring individuals to authentically pursue their dreams are just a few of the ways she helps put Strengths into action, and some of the many reasons she loves her job.
As founder of Keri Bischoff Consulting, she's worked with nuns to neurologists. Her educational background includes an undergraduate degree in Business Management and Organizational Behavior, and a Master of Arts in Education. Additionally, she's an Executive Health Coach who partners with clinicians and educators at Johns Hopkins.
The picture of who she is wouldn't be complete without mentioning her husband and four daughters. When she's not working with clients or analyzing assessments, she's outside with them enjoying the four seasons, sailing on Lake Superior, cross-country skiing, or spending time with her favorite small but strong people — her grandchildren.
Refund Policy: Attendees can receive refunds up to 7 days before the event start date. Please contact Briana Galbraith at briana@teamwomenmn.org for more information.
Related Events