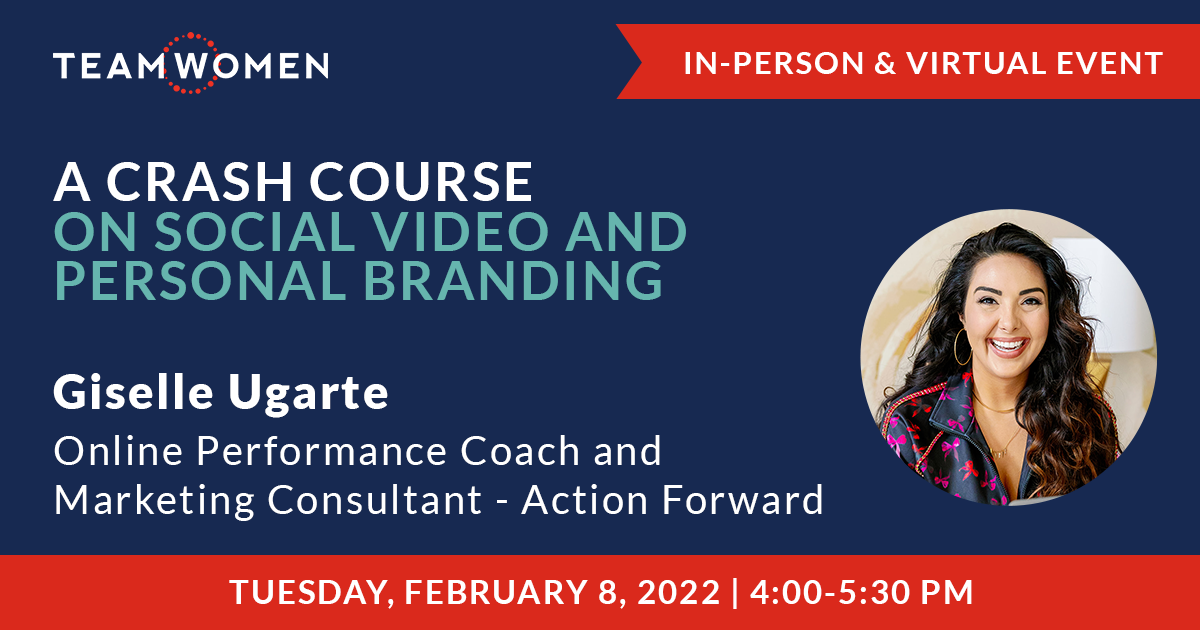 (IN PERSON) A Crash Course on Social Video and Personal Branding | Giselle Ugarte
February 8, 2022 @ 4:00 pm - 5:30 pm CST - $35 – $55
Note: This is the in-person registration page for our hybrid in-person/virtual event.
Take charge of your brand! Join us February 8th to learn from social media influencer and marketing guru Giselle Ugarte. She'll give us a crash course on how to develop a memorable personal brand AND unshakeable confidence using social media and video WITHOUT making yourself cringe!
Giselle Ugarte
GISELLE UGARTE IS AN ONLINE PERFORMANCE COACH AND CEO OF ACTION-FORWARD.
She's especially known for her content accelerating keynotes and programming designed to help entrepreneurs with personal branding, social media messaging and getting tf on video.  She approaches marketing from the lens of personal development, humanizing the ways we show up in business, online and especially off, with time and energy setting tactics, captivating communication techniques and tangible boundary-setting tools. 
With a collective following of over 500,000 followers, Giselle has been recognized by TikTok as one of the Top 100 Women to Watch in 2021. She's shared the stage with thought leaders like Brendon Burchard, Gary Vaynerchuk and other, and has been featured in AdWeek, Business Insider and Social Media Examiner for her innovative work.
Previously, she was a LIVE television and radio host, writer and producer (Today, E!, Entertainment Tonight, ESPNU and others). (Ask her how her career accidentally started on YouTube.) She's also a proud Latina (Spanglish was her first language) and USC Trojan. 
She currently resides in Minneapolis with her long-haired chihuahua Penelope Cruz and her massive taro plant Jennifer Lopez.
Refund Policy: Attendees can receive refunds up to 7 days before the event start date. Please contact Amy-Marie Lemanski at amy-marie@teamwomenmn.org for more information.
Related Events