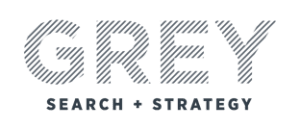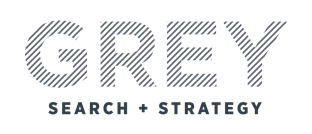 As TeamWomen continues to grow and reach professionals across the Twin Cities, we couldn't be more grateful for our sponsor Grey Search + Strategy!
Grey Search + Strategy is a strategic search and consulting firm built on a singular idea for delivering better recruiting results. With 60+ years of combined experience in search strategy, recruiting, and team-building, they've built a breakthrough brand on offering more strategic, long-term focused solutions to matching talent with opportunities. Driven by a passion for understanding unique challenges and discovering unique talent, they bring the two together for extraordinary results. Find out what drew the owners, Alissa and Lucas Henriksen, to sponsoring TeamWomen and how they support women while giving back.
What drew you to
sponsoring

 TeamWomen?

We've always been proponents of supporting women. Lucas and I were both raised by strong, independent women. So, it was never a question that this would not be a focus for us. TeamWomen does an amazing job of lifting up women, giving them an opportunity to grow and shine, providing education and tools to be their best self, and to go after it!
What experiences within Grey Search + Strategy do you provide specifically for women?
Grey Search + Strategy is an executive recruiting and recruiting consulting company. We have clients throughout the US, but with 60% headquartered in MN. We ALWAYS give women the opportunity by making sure women are included in every search we take on. We always look to bring diversity into every single search. In addition to that, we are big on giving back and supporting women-focused organizations. We not only sponsor TeamWomen, but we focus on purchasing promotional items that support women-run/owned businesses. All of our candidates that get hired by our clients get an awesome coffee launch kit. The company we support is City Girl Coffee (where proceeds go back to coffee farms that are operated by women) – owned by my friend and amazing business owner, Alyza Bohbot (Alakef). Supporting women is a big part of our ongoing mission at Grey Search + Strategy and that won't ever change. We also have one of the best directors, Nikki Francois, at Grey Search + Strategy. Her vision and insights as a female leader are unmatched in our industry! Our HR Business Partner is Vickie Skala. She brings years of expertise and HR strategy to our company. We are proud to have such powerful female leaders. It definitely leaves Lucas outnumbered…but that's okay!
Grey Search is also the platinum sponsor for the Women in Business events put on by the Minnesota Chamber of Commerce. We've been doing this for over 5 years and have loved watching the attendance go from 90 to over 300 in 2019!
What are 3 things (serious or fun) that separate you from other companies within your industry?
Number one – we CARE. We go above and beyond for our clients and our candidates to make sure they have the most incredible experience. It is our job to make sure our service is top-notch and we take it very seriously. One of the number one things our clients say is that we are extremely flexible. We are a retained firm, but we are flexible in our approach. Every client we work with is more than happy and has provided testimonials to our work.
Number two – we visit every single client to make sure we understand their business and culture and we do this more than once…AND this is our expense. Not our clients. We do this before taking on a search. Our clients are giving us a big responsibility to find the best talent that matches their culture and needs, and the only way you can determine a fit is by physically being onsite and getting to know the team(s). It is our job to also go beyond the black and white of resumes – we go deeper to make sure we understand the candidate's story. Understanding a candidate's story and physically being on-site allows you to find a culture fit.
Number three – we guarantee we will pay back our retainer within the first 60 days if we aren't hitting the mark. We are a retained firm, but we also guarantee that if our partnership is not meant to be, we care more about our reputation and will give back the money. Have we ever had to do that…NO! We are proud of that statistic!
What are some big things happening for your company in 2020?
We are bringing on a new senior recruiting partner that has a pretty amazing background in IT (mid-level to executive-level recruiting). IT recruiting is an area our clients have been begging us to support, and we now can say we will as we never wanted to take something on that wasn't in our wheelhouse. Our new addition has not been announced yet, but we can't wait to go public! YEA!!
We are also in the process of finalizing the plans for our new office space. The buildout will take a bit of time, but it's super exciting and speaks to our brand! We can't wait to invite you all in for the grand opening of our new space. It will be a celebration with free giveaways, networking, and pure appreciation and thanks for all of those that have supported us along the way.
Lastly, we will be launching our recruiting playbooks. This playbook will take companies to the next level when it comes to being proactive in their recruiting approach. This gets companies thinking about what they need to do before, during, and after they have a position to fill. This playbook started out as a pilot and went into full force with a nationally recognized brand in 2019 – Schwan's! The book was customized for Schwan's, but the generic book will be something other companies can have access to going forward. You want it customized? We can do that too! The book and our virtual or on-site training increases applicant flow and hires.
We could not be more thankful for the support and opportunity to be part of the TeamWomen family! This is truly a wonderful organization!
Don't miss Grey Search + Strategy's virtual talk with us on April 17th as Alissa and Lucas talk about prepping for virtual interviews! To register and learn more, click here.