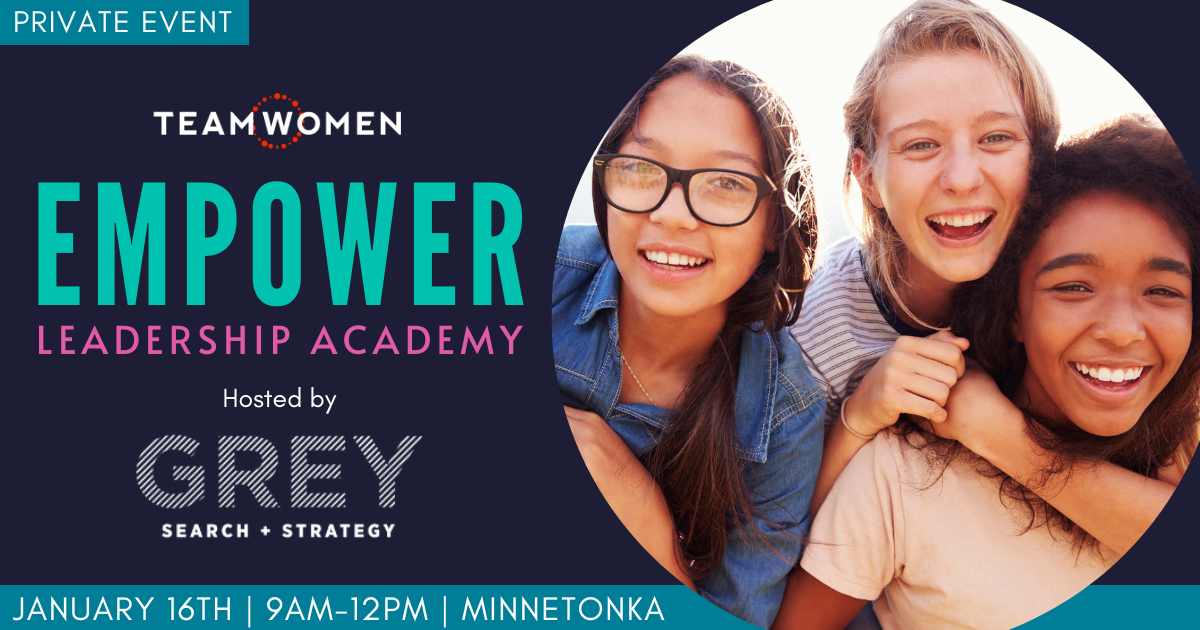 Empower Leadership Academy Hosted by Grey Search + Strategy
January 16 @ 9:00 am - 12:00 pm CST
Leadership skills, building confidence and strengthening resilience require education and practice. TeamWomen's Empower Leadership Academy provides a safe environment for kids to learn and grow. Our experienced leadership coaches are dedicated to inspiring, developing, and empowering our next generation of leaders.
In partnership with Grey Search + Strategy, Empower Leadership Academy will provide an academy for girls that are aged 10-18 on January 16, 2023, from 9:00 AM -12:00 PM.  This is for the first 50 daughters, granddaughters, and nieces of Grey Search + Strategy team members, partners, and associates.
The youth attendees will learn about leadership, confidence, and social-emotional topics in an interactive, safe and fun environment. This academy will allow them to walk away with tangible self-development tools to prepare them for an inspiring, hopeful, and engaging school year.
In partnership with Grey Search + Strategy, our goal will be to:
Create a safe program for youth identifying as girls in 5th-12th grade to enrich or expand their skills
Increase the commitment to the social and emotional learning of the students
Learn successful tools to help cope and empower them to discover their individual worth
Offer additional value to the mentors, coaches, teachers, and parents
Kiara Buford
Behavior Interventionist
Roseville Area High School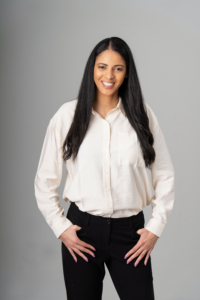 Kiara Buford has been a Behavior Interventionist for nine years, helping students seek success in their high school experience by building relationships, setting goals, and developing a positive community. She also currently works with EmpowerLeadership Academy and ON Point Elite as a Leadership Coach.
Peyton N. Owens III
Senior Associate Athletics Director
University of Minnesota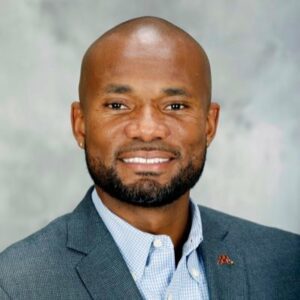 Peyton Owens is in his 13th year with Golden Gopher Athletics. He currently oversees Student-Athlete Development (all education provided to student-athletes, including career readiness, personal development, community outreach, and risk reduction), Diversity & Inclusion, the M Club, and our Women's Golf program. Owens has been instrumental in the vision and implementation of Leadership U, which he has had oversight of since its launch. This collaboration with Land O'Lakes Inc. provides leadership development and emotional intelligence education and support to student-athletes, assistant coaches, head coaches, and athletics staff. To support this initiative and others like it, he is responsible for cultivating, soliciting, and stewarding donors for endowment and annual support of Leadership U, the W.I.L.L. program (Women Invested in Leadership and Learning), and more. Owens is also an ambassador for athletics on campus, bringing the voice of Golden Gopher Athletics to several critical groups. He is a member of the President's Initiative on Preventing Sexual Misconduct, the Faculty Oversight Committee on Athletics (FAOIAC), and the campus' Equity & Diversity Subcommittee. His commitment to collaboration and strategic partnerships, both at the University and in our broader Twin Cities help champion all that is Maroon and Gold.