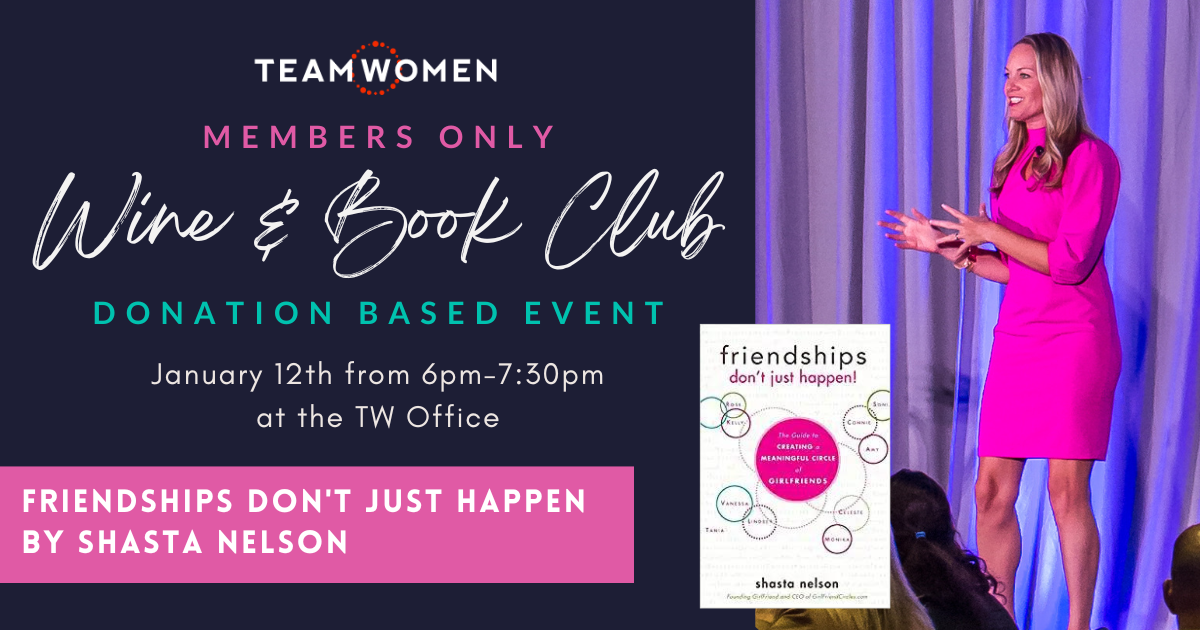 Q1 Wine & Book Club | Members Only | Session 1 of 3
January 12 @ 6:00 pm - 7:30 pm CST - Free
At TeamWomen, we believe in the power of meaningful connections to empower women to rise together. Please join us for our Wine & Book Club — a FREE member-led initiative for members with common goals and interests to gather. Throughout the year, we discuss 4 different leadership books, one per quarter. We meet monthly with a member facilitator to share thoughts and ideas we learned through our reading and enjoy a beverage. Bring your own beverage and book!
While this program is free, we encourage a donation to support our mission. Our first book in 2023 is "Friendships Don't Just Happen" written by one of our favorite TeamWomen Annual Leadership Conference Speakers, Shasta Nelson. Click this link to hear from Shasta what this book is about.
The book is divided into three main parts:
"From Loneliness to Frientimacy" helps us evaluate our individual relational needs using Shasta's 5 Circles of Connectedness so we can better see what types of friends we already have and which ones we might want to add. Another unique paradigm offered in this book is that of Frientimacy—Friendship Intimacy—that articulates the closeness we crave, the awkwardness that can come from it, and the 5 developmental stages of a relationship that we must cultivate.
"Five Steps to Turn Friendly People We Meet into Friends Who Matter" covers the 5 Steps to Friendships, taking one chapter to cover each step: Be Open, Initiate Consistently, Add Positivity, Increase Vulnerability, and Practice Forgiveness. Each chapter is filled with personal stories, research, practical tips, reflection questions, and personal growth concepts. Chapter 8 includes the Frientimacy Triangle which illustrates how to increase our vulnerability in a way that is constructive, meaningful, and safe.
"Friendships Don't Just Keep Happening: Be Intentional" covers the Five Friendship Threats—jealousy, judgment, non-reciprocation, neglect, and blame—and healthy suggested responses to each of them so we can ensure that our friendships continue to grow in maturity and meaning. The book ends with a clear plan of how to move toward the friendships that matter most to the reader.
We'll read 5 chapters before each meeting. To purchase this phenomenal book, go here.
Member Quinn Driscoll will guide us in this book discussion on these dates:
Note: You must register for all three sessions individually.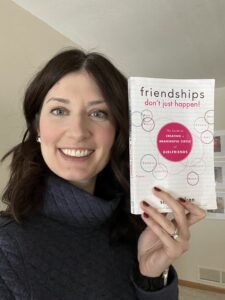 Quinn Driscoll, CPA/ABV, is a business coach and money mentor. As the founder of Value Gal, she brings Wall Street knowledge to Main Street business owners through coaching programs that teach financial skills and strategy.
Prior to Value Gal, Quinn spent more than a decade as a sought-after financial expert witness who worked in the high-stakes world of litigation consulting. She is a frequent speaker and guest expert on financial topics including building a valuable business, a money mindset, and goal setting for business owners.
Related Events